For more information, our 5k website can be located here: 5k.MissouriMililitary.org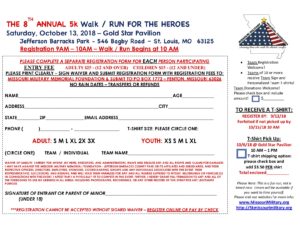 REGISTRATION FEE(S):
$25 for ages 11+
$15 for ages 10 and under
OFFLINE REGISTRATION:
Click below for the Registration Form:
Mail-in Registration Form
Please mail to:
Missouri Military Memorial Foundation – PO Box 1772 – Fenton, MO 63026
Deadline for mail-in: 9/12/18
OR
Bring it with you on the day of the event!
ONLINE REGISTRATION and FEE(S) :
Begins July 5, 2018
$28 for ages 11+
$17.50 for ages 10 and under
*****Please note we have passed the fee for Fleet Feet charges for MMMF, to take care of our Online Registrations this year*****
https://racesonline.com/events/mmmf-5k-walk-run-for-the-heroes
WAIVER OF LIABILITY
I HEREBY FOR MYSELF, MY HEIRS, EXECUTORS, AND ADMINISTRATORS, WAIVE AND RELEASE ANY AND ALL RIGHTS AND CLAIMS FOR DAMAGES I MAY HAVE AGAINST THE MISSOURI MILITARY MEMORIAL FOUNDATION – JEFFERSON BARRACKS COUNTY PARK OR ITS AFFILIATES AND SUBSIDIARIES, AND THEIR RESPECTIVE OFFICERS, DIRECTORS, EMPLOYEES, SPONSORS, COORDIANATING GROUPS AND ANY INDIVIDUALS ASSOCIATED WITH THIS EVENT THEIR RESPRESENTATIVES, SUCCESSORS, AND ASSIGNS, AND WILL HOLD THEM HARMLESS FOR ANY AND ALL INJURIES SUFFERED TO MYSELF, BELONGINGS OR VEHICLES (S) IN CONNECTIONS WITH THIS EVENT. I ATTEST THAT I A PHYSICALLY FIT TO COMPETE IN THIS EVENT. FURTHER, I HEREBY GRANT FULL PERMISSION TO ANY AND ALL OF THE FOREGOING TO USE MY LIKENESS IN ALL MEDIA INCLUDING PHOTOGRAPHS, RECORDINGS, OR ANY OTHER RECORD OF THIS EVENT FOR ANY LEGITIMATE PURPOSE.
---

There will be a timer available for registered runners who would like to clock their time at the finish line.

Registration (with t-shirt) deadline is September 12, 2018
Registration (with no t-shirt) deadline is October 10, 201
*You may still register for the 5K Walk/Run for the Heroes on the day of the event. 

Register a team of 10 or more by September 12, 2018th:
We'll make you a sign representing your team or hero to be displayed on the 5K route that you (the Team Captain) get to take home at the end of the 5K.

Earn free team personalized 5K t-shirts, for every member of your team, with your team name printed on the back.


In order to receive a t-shirt, with your paid registration, please register no later than September 12, 2018. No t-shirt orders can be processed after this date due to our vendor deadline.

T-SHIRT PICK UP DAY:
Saturday, October 6, 2018 (at the Gold Star Pavilion)
10 a.m. – 1 p.m.
T-SHIRT SIZES ARE AS FOLLOWS:
(please select the size desired on your registration)
YOUTH – Extra Small (2T-4T) | Small (4-6) | Medium (8-10) | Large (10-12) | X-Large
ADULT – Small | Medium | Large | Extra Large | 2X | 3X
THIS YEARS DESIGN:
To be announced. 
PAST T-SHIRT DESIGNS: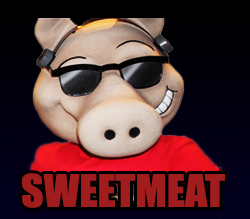 Sweetmeat and the KSHE 95 van will be on site to meet and greet our participants. Bring your camera!
The St. Louis Chapter of the Patriot Guard Riders will be in attendance once again this year to show their support & respect for our fallen military personnel.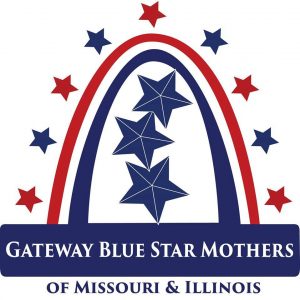 Gateway Blue Star Mothers of Missouri & Illinois will be hosting a table where all ages can make "Cards for Troops" to show their support for our active duty military personnel.

 Gateway Superfriends will be in attendance to meet & greet our younger participants (and those who are kids at heart) for photo opportunities and more. To learn more about Gateway Superfriends, please visit their Facebook at: https://www.facebook.com/GatewaySuperfriends

Enter through the North Gate off of Broadway heading south. Take first left at Gark Road. Head east on Gark and turn south (right) on Bagby Road. Take an immediate left (east) into parking area for pavilion.
You can use this link to help you sort out your personal directions via Google Maps.

To join our Facebook event page and keep up on the latest information please visit: https://www.facebook.com/events/310352262732531

Fore more detailed information about the 5K Walk/Run for the Heroes please visit our Information page by clicking here.
To learn more about our 501(c)3 non-profit organization, please visit our official website: www.missourimilitary.org

To sponsor our 6th Annual 5K Walk/Run for the Heroes, please visit our Corporate Sponsorship page located at this location.